latest headphones test :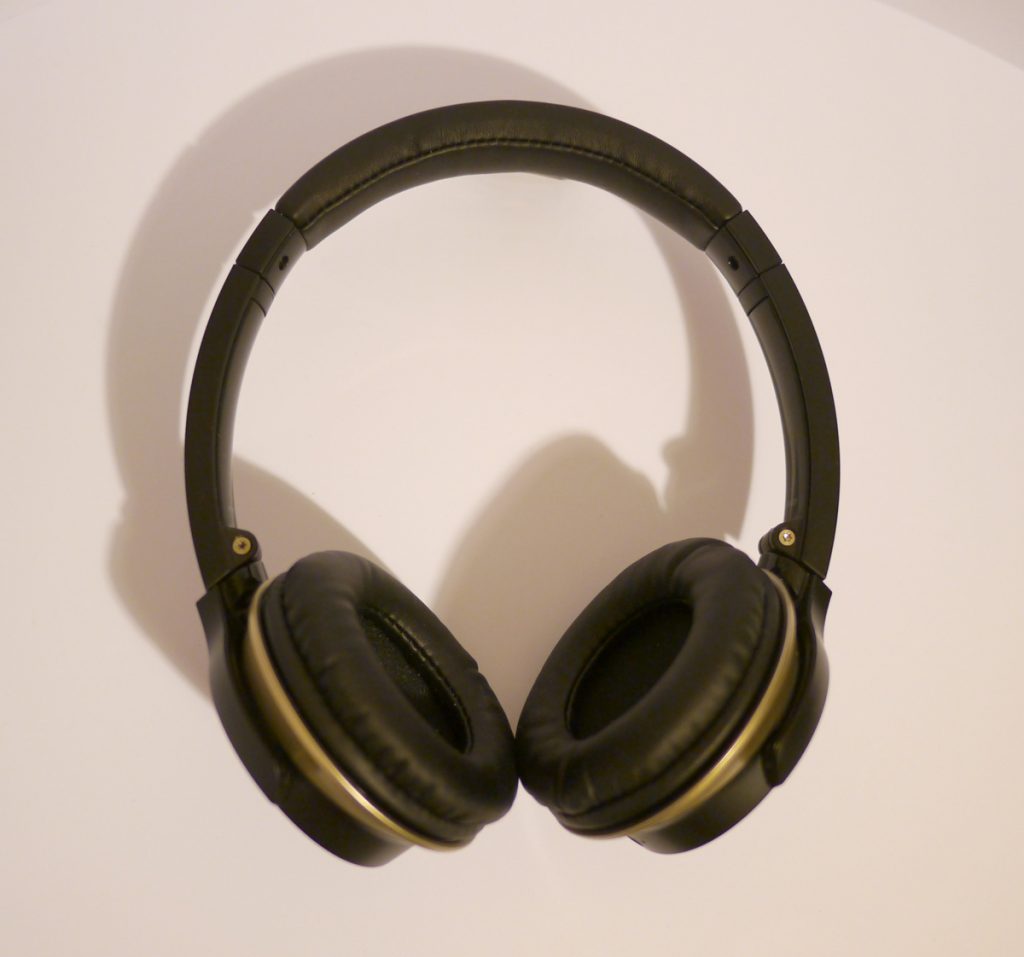 the new AR3BT ( AR3i's bluetooth version) from Japanese maker Audiotechnica
These are mobile headphones, foldables, supra-aural (aka on-ear) under 100$
connectable by jack cable or via Bluetooth 4.1, with NFC and compatible AptX and AAC
CONSTRUCTION :
the first picture over there illustrates the maximum rotation of the cups, indeed, impossible to fold them flat
Printed logo on the sides, almost discreet; the cans are satin black, with golden accentuations you may or may not find of the best taste
connectivity is expectedly basic, we find bluetooth controls on one side, the NFC Zone, the charging micro USB plug and a 3.5mm jack
next to the jack plug, a little LED indicates the state of the bluetooth link
you may notice here the plastic aspect of the select switch , which doesn't appear very centered either …
the on-off button slides and creates a mecanic contact, impossible to associate the headphones purely by NFC without turning it on first, as some devices do
Over the band are various grades of plastics, containing a metal hoop though.
Some plastics appear better than other, and all parts aren't perfectly burred, the whole assembly doesn't feel very "premium" but the phones don't creak and no parts appear to be held by clips, everything is screwed, which sounds good in case of future servicing
This shiny plastic choice is again debattable, giving a cheap feel to the whole device .
The cans however light are made in a satin plastic that looks luch better, even though it appears prone to scratches.
the golden parts are done with a metallic paint, and even thouh i'd rather have had a simple shiny black or something more discreet, the metallic gold sightly reduce the NoName feel
Provided cables are also basic, starting with the USB cables
The audio cable gives a mixed impression, the connectors are very nice, but the cable itself feels overly stiff and cheap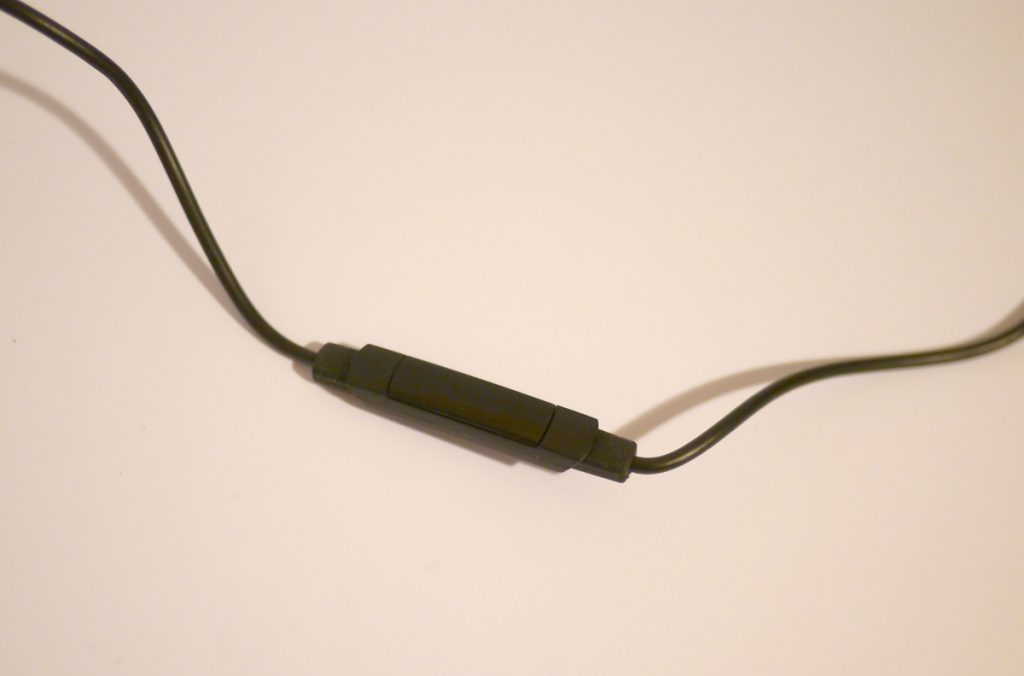 The single-button remote also houses a microphone on it's rear side, and is terminated byrubber ends which will catch any dust around: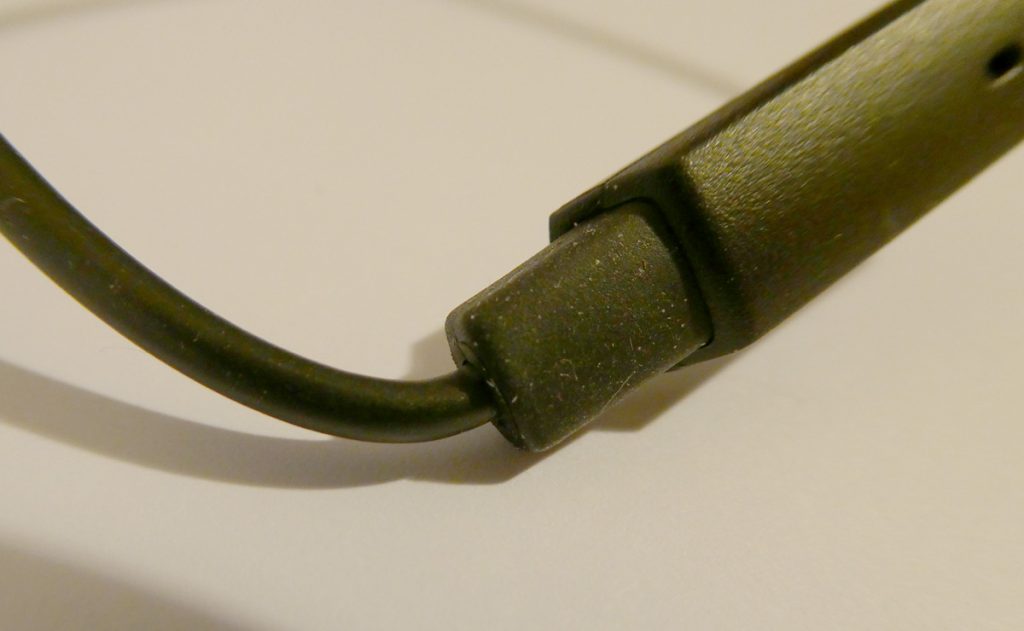 ERGONOMICS :
This is a supra-aural model, therefore presses on the ears themselves, this is the least comfortable kind of headphones, but the most compact, and it should be said these would benefit from softer earpads, the provided ones being slightly too stiff to my taste.
However,with 7cm outer diameter and 4cm inner diameter, we're bordering circum-aural dimensions , the pads rest on the outer side of the ears, making them -for me at least- surprisingly comfy in their category, not crushing my cartillage like some other would
THe pinching pressure is moderated, not too tight, or too soft on the head, the headphones hold well in place, allowing you to move around without fearing to see them fall, as one might with AKG Y50 for example .
the downside is that it makes ears feel warm prety easily, the cups having no venting whatsoever, i feel the comfort can be greatly improve with new pads, might be worht testing !
And since the AR3BT is a folding compact cable, here is sime size comparaison :
despite having no provided pouch , here is the fully-folded size, held with some golden paracord :

the savings made on the plastics have a goal though , as these cans contain a pair of 40mm transducers, like big ones, and whose response is supposedly ranging from 5 to 35000hz and a 97dB sensitivity, hot damn , then how do they sound ?
COLORATION:
the sound is fairly flat, no predominant mega-bass or any peak, it might not be exciting, not impressive upon first listenings, but i'd rather have this than a sound that tries to replace my own EQ, the AR3 allows for adding in your own V-shape curve if ever you feel like it.
However beware, far from a studio monitor, the sound isn't perfectly neutral either, it's warm, round, highs are not recessed and provide a good clarity, precise and contained, never ringing or whistling.
The general warmth doesn't mean blurry or muddy bass aither , on the contrary the 40mm membranes are effective on most of hte spectrum and shine even better in the bass, making them deep and detailled.
One thing is most noticeable though, the mediums are slightly in the back, around 1.5khz is a roughly 3.5dB pit that puches some voices on the back slightly,
of course some simple EQ will compensate for it, but this hole remains suspicious, adding those 3.5dB between 1 and 2.8khz turns the listening form "ok" to "fantastic", from a slightly muffled sound to something open and dynamic , makes you wonder how AudioTechnica could let it slip through
this slight EQ sends the mediums back to the front of the stage
The sound performance has to be measured with all connection means too, with basic bluetooth, the sound sounds a bit more confuse and blurry, in AptX however, hard to find a fault in the sound, and the wuestion you may be asking now :
By cable, is there an "active" aspect lacking , once the internal amp is off?
The andwer will be a proudly resounding : "no"
plugged and switch on "off" the sound is rigorously identical, which is a very good thing as it means the internal amp is neutral, without cheating EQ, and i can only congratulate AudioTechnica for not falling into this trap !
+ sides:
very light and comfortable for an on-ear
AptX on BlueTooth
best wireless sound under 100$ ?
– sides
some plastics are cheap
limited pivot on cans
medium hole
not even a little pouch ?
CONCLUSION :
This close from perfect!
Regardless of the basic packaging, AudioTechnica provides here an exemplary pair of cans, unexpensive and great sounding, doubtlessly one of the best deals of this year, to me better than the AKG Y50BT or other sub-100$ SONY headphone, the AR3BT deserves his spot on the podiu.
However the sound being less impressive or flattering that some strongly V-shaped challengers, it might disapoint some non-educated listeners, but this one particularity makes it an extremely versatile model that will please money-tight eclectics !